Crystal Clear Swimming Pool Cleaning Services (spain)
Welcome to the Crystal Clear Swimming Pool Cleaning Services Web Site
WE NOW CAN NOW CARRY OUT UNDERWATER REPAIRS TO YOUR POOL. ALL REPAIRS DONE BY A QUALIFIED DIVER SO NO NEED TO DRAIN YOUR POOL !!!!
E MAIL FOR MORE INFO
About your pool
You have just bought that lovely dream home in the sun complete with the lovely pool to laze in on those long hot summer days
The lovely thought of relaxing in the lovely clear water after a long hot day in the sun. But do you really know how clean your pool water is???
If your pool is not maintained correctly it can very quickly become a breeding ground for over 21 million different types of bacteria!!!!
Your pool can turn from "Crystal Clear" to DARK GREEN in a matter of 4 days in the summer months if it is not looked after correctly.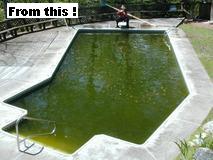 These pictures were taken 7 days apart
You stand more chance of catching a bug through an incorrectly treated swimming pool than the chance of you catching a cold !!!